Students from IHM visited Miss Sophie's Hostel/Hotel

Students currently in the Business Economics class from the 5th semester of the bachelor's program: Hospitality Management, study in English, had an excursion to Miss Sophie's Hostel/Hotel, located in Prague 2, earlier this autumn. This Hostel and Hotel company are part of the Bohemian Hostels & Hotels Group. Thanks to the kindness of staff members we not only collect the facts about the company but also passed a pleasant time together.
To start, we had breakfast, which afforded us an opportunity to try the various meal options as real guests. While we were having breakfast, an employee from the hostel sat with us and gave us an introduction about the hostel/hotel. After our meal and introduction, we visited the Hotel installations. At the end of the visit, we were afforded an opportunity to talk to the HR Management of the group and the General Manager of this hostel/hotel. During this meeting, we were able to ask questions about how Miss Sophie's works and how it is managed (company organization, structure, human resources functions).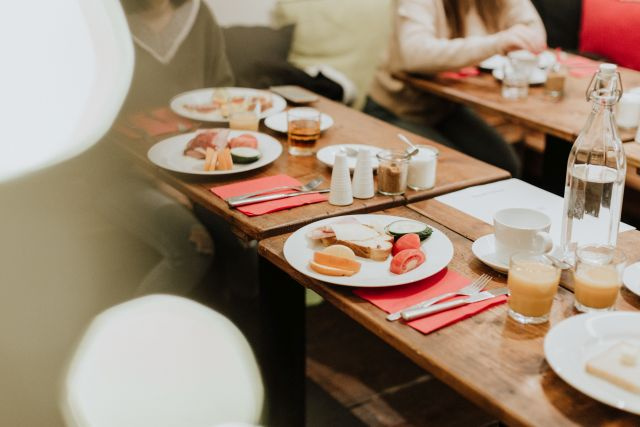 "This past Monday, on October 22nd, our class went on an excursion to Miss Sophie's Hostel and Hotel. The hostel and the hotel are located on different streets directly in front of each other, so we noticed a difference very quickly. The hostel has a younger and relaxed presence than the Hotel. However, the hotel has a really nice SPA. The Hotel is a Boutique hotel with 16 rooms, where you can find single, double or triple rooms. The target customers are couples or individuals on business trips.
We also had the opportunity to talk to the HR Management of the group and the general manager of the hostel/hotel. In this conversation, we realized that they try to encourage the workers by offering a lot of benefits and personalized training. Also, they also have a lot of different cultures working for them.
In general, I liked the hostel and the concepts behind it."
Ana Rita Fernandes
Student from the Erasmus program (Portugal)
Photography by: Maria Volzhina

APPLICATION FOR STUDY for school year 2019/2020 is possible to send here online until 30th April 2019: Application for study at IHM


Photo